Fashion and Textildesign Plugins
For Adobe Photoshop.
enhance your creativity with powerful tools.

TRIADEM StylePlugs: Fashion  and Textile design PlugIns for Adobe Photoshop
The TRIADEM StylePlugs are textile design plugins for Adobe Photoshop. They expand the powerful tools of Photoshop to textile functionalities to create fabric designs. They are the ideal tool for fashion and textile designers who create their designs with standard graphics software.
There are plug-ins for print design, repeat design, colouring and fabric simulation.
Download TRIADEM StylePlugs Free Demo
Transform Photoshop in Textile software!
TRIADEM Weaver
Photoshop PlugIn for Dobby Weaving Simulation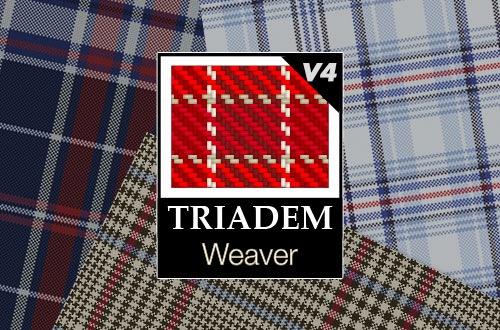 The Weaver plugin helps you create high-quality dobby weaving designs such as checks, stripes and madras in many different variations. Access to the collection color list allows you to choose from the appropriate yarn colors.
NEW: Weaver V4: picture overlay function, Weave repeats associated to colours, multiple undo redo …
Freehand drawing in warp and weft
Weaving formulas input
creating new weaves
Mirroring, repeating, copy-paste from sequences
creating colour variations
setting the yarn colours
Mehr Info…
TRIADEM Repeater
Repeats and All-Overs
The PlugIn to create repeats.
Repeater allows you to create repeats, all overs using standard drops or defining them as you wish,
scaling rotating and mirroring each individual pattern in the repeat.

All-Overs
Usual dropdown (1/2, 1/4…)
Rotation, symmetry, scaling and mirroring of patterns
Random function
automatic repeats
individual repeat sizes
Mehr Info…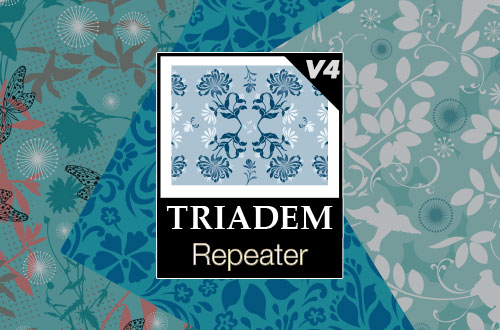 TRIADEM Coloration
Colorize Designs, Create Colorways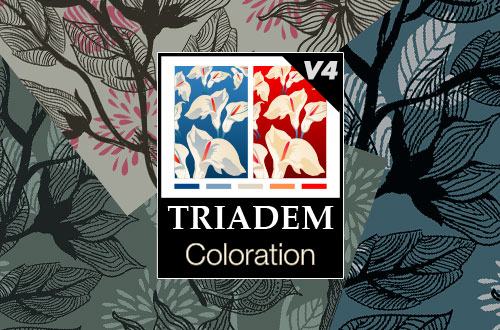 With Coloration, you define the colours in a design, either automatically or by picking them, and then replace them with
your colorbook colors to define your colorways.
define your colours
Create your colourways
Use .ACO colour lists
Create Multi-Channel files
Create Reports, Stylesheets
Random Function
Mehr Info…
TRIADEM ColorList
Creating,printing and editing colorlists.
Textildesign Plugin to create, print and edit colorlists.
Open edit and print  .ACO colourist.
Work with colour gradations
RGB, CMYK
Create Colourlists
Use and choose colours from Pantone-Lists
Create and define your colours at will.
Mehr Info…
[go_pricing id="plugins"]
Host Applikation: Adobe Photoshop CS6 / CC
Betriebssystem: MacOSX 10.10 und Windows 7
Weitere Informationen zu Adobe Photoshop finden Sie auf der Website des Herstellers: Adobe.